The agriculture industry plays a fundamental role in helping the planet stay within GHG acceptable levels. As suppliers and retailers grapple with ways to incentivize and facilitate change, the data to trace, measure and verify the validity of cleaner practices remains a core component to proving sustainability. Bringing together industry leaders including Bunge, Danone, Nestle and others, Reuters held their Transform Food 2023 event from November 2-3 this year in Minneapolis to address these issues and accelerate the transformation of the global food and agriculture ecosystems.
Participants acknowledged that regenerative agriculture needed to be incorporated into food producing processes, but what does that mean exactly? The term is defined as a conservation and rehabilitation approach to food and farming systems. It focuses on strengthening the health of farm soil and improving the planet's resilience to climate change by way of topsoil regeneration, increasing biodiversity and improving the water cycle.
Farmers Edge solutions support regenerative ag practices by collaborating with the farmer to implement sustainable farming practices like 4R fertility management, using imagery and climate sensors in combination with equipment telematics to automate data collection. Evaluating your data, AI-powered algorithms connect with Big Data analytics to deliver timely insights and recommendations through a convenient cloud-based digital platform.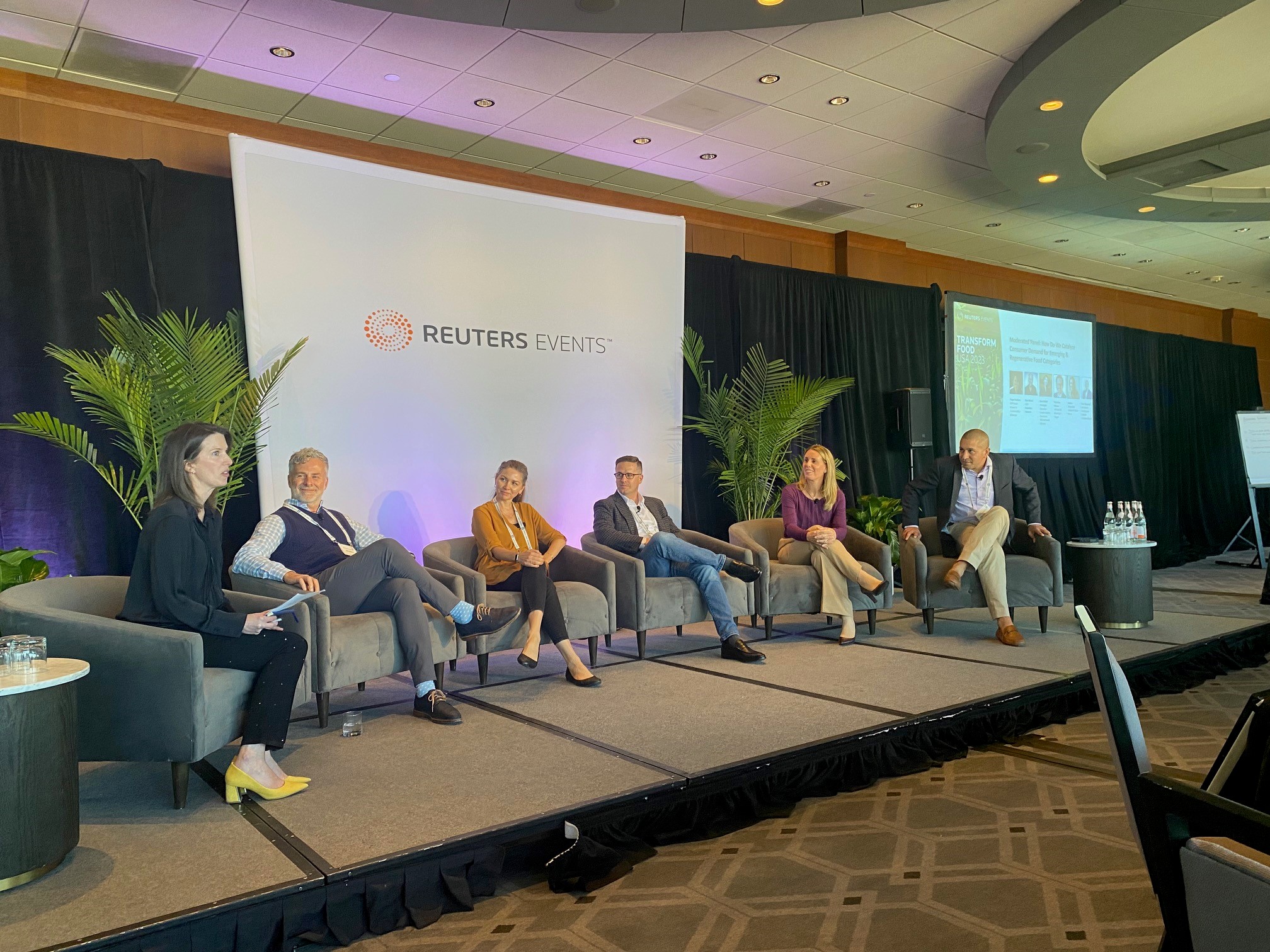 OPPORTUNITIES AND CHALLENGES AHEAD
At the heart of the change is the grower, where industry players need to come together to support their adoption of technologies to help propel changes in their processes. Growers want:
Financial incentives to adopt new technology.
Proof that the digital tools make a positive difference in a farm's operations.
Supply Chains are asking for:
Improvements in data management and sharing efficiencies.
Tools to minimize logistic gaps and provide a comprehensive overview of the moving pieces within a farm's operation.
HOW FARMERS EDGE HELPS
Farmers Edge is uniquely positioned to help both agricultural supply chains and growers harness technologies to automate the capture of data in their operations to gain new insights and uncover opportunities for expansion at scale. Our digital solutions give users an edge with:
Farm-to-fork traceability by combining artificial intelligence with big data analytics and agronomic expertise to provide powerful, timely insights and recommended actions.
By providing advanced agronomy services and fertility management, Farmers Edge helps farmers achieve 4R Nutrient Stewardship, (Right Source, Right Rate, Right Time, Right Place).
All-in-one digital platform FarmCommand, delivers end-to-end farm management so you can mitigate risk and maximize returns across every acre.
Industry-first programs to capture and verify carbon insets and offsets helping companies achieve and demonstrate sustainability.
Farmers Edge provides solutions for growers through the supply chain to Agri-Food, Fuel and Insurance. For growers, Farmers Edge provides the tools to arm themselves with the data from their operations and empower their voice to give them greater leverage to dictate the future of food. We help suppliers looking to bolster their logistics, to uncover new insights and potential opportunities through licensing our technology for their operations. Learn more at: farmersedge.ca/technology-data-licensing.