Celebrating the spirit of innovation and resilience in Canadian agriculture, our Prairies Harvest Report 2023 offers an insightful glimpse into this year's harvest. This year, we witnessed a challenging landscape as the Canadian Prairies encountered overall depressed yields, marking a trend lower or on par with the past five years, except for the drought-stricken 2018 crop season. Our analysis focuses on the following key aspects:
Canola and Wheat Yields: In-depth analysis specifically centered around canola and wheat yields in the Canadian Prairies.
Comparison with StatCan Forecasts: Detailed comparison of Farmers Edge Harvest Yield data with the latest forecasts from Statistics Canada.
Five-Year Yield Comparison: Thorough comparison of this year's yields with data from the past five years, providing a historical perspective on trends.
Nitrogen Use Examination: Detailed study of Nitrogen use for Canola and Wheat, comparing it against a benchmark to understand its impact on yields and trends in the region.
Sample Insight 1: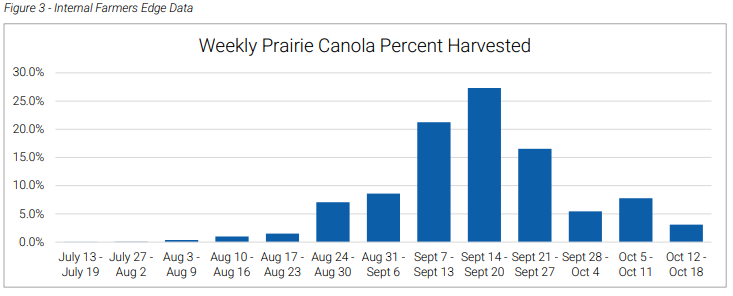 Explore the trends, fluctuations, and insights gathered from years of analysis, providing a roadmap for farmers navigating the ever-changing agricultural landscape.
For a deep dive into the full report and to uncover the strategies behind these exceptional results, click here to sign up and gain access to the complete findings.